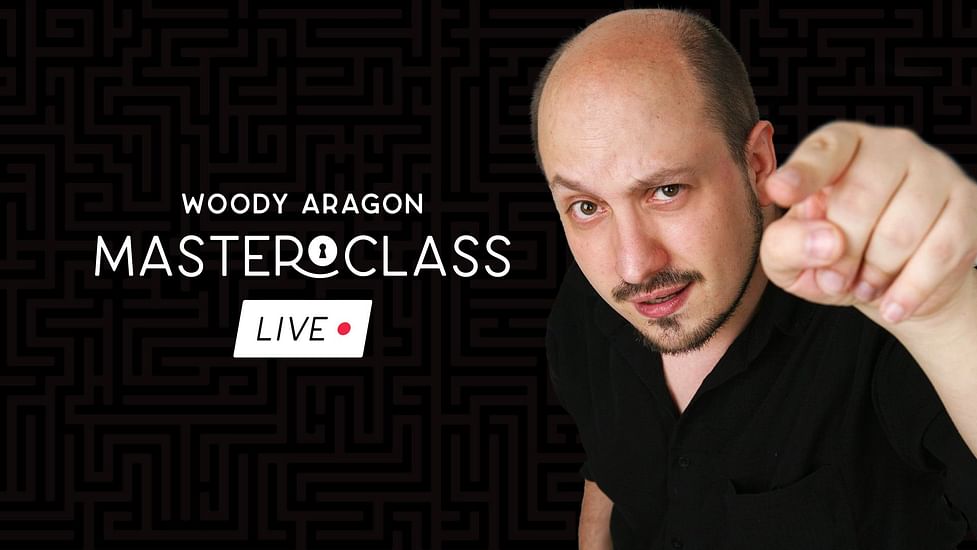 Woody is from the Spain, and the Spanish School. His magic has been performed by magicians all over the world, most famously by Penn and Teller, as well as Dynamo during his "Magician Impossible" series. Woody doesn't just create magic, he also performs it – and it shows. From The Magic Castle to magic conventions everywhere, Woody is a seasoned creator and performer with a wealth of information that you can't afford to miss.
Here's what he'll be covering:
Masterclass 1
Direct Spelling – After the deck is shuffled by several spectators, a value and a suit is named. When that card is spelled to, the last card dealt matches the thought-of card. This is a direct, fooling and practical card trick that can easily slot into any repertoire.
The Poker Hand (Performance) – Without wanting to ruin the surprise, you will get to see a fantastic, visual packet trick performed… but you'll have to wait until the second Masterclass to learn it!
Location at Number – This effect draws together two old ideas from Partagas and Robert Houdin. A selected card, which is lost into the deck) is located at a number chosen by the spectator.
Guessing by Colors – The deck is separated into reds and blacks. Somehow, Woody is able to divine specific cards, in spite of the incredibly fair conditions.
The Mentalist Plus – This is one of Woody's favorite tricks to perform. It has a lovely callback to the first spelling trick. A card is divined in a particularly fooling way.
Coincidences by Incidences – Never before taught on video, you will learn Woody's version of the classic "Total Coincidence" plot with a single deck. With several surprises, and an amazing climax, this is set to be the highlight of the Masterclass.
Masterclass 2
Triumph in Continuity – Woody has spent years seeking the perfect Triumph routine. By combining Dai Vernon's classic Triumph with a very powerful concept from Arturo de Ascanio, this routine is a masterclass in construction and effect. This is the Triumph that Woody uses in his professional shows.
The Poker Hand (Explanation) – You saw it performed in Week One. Now is your chance to learn this fantastic effect, which only uses regular playing cards.
The Human Balance – Learn the effect that Woody uses to close his stage shows. The premise of this effect revolves around weighing cards… and it's as intriguing and off-the-wall as it sounds.
To top off this jam-packed Masterclass, Woody is also going to analyze what it takes to effectively structure a routine. He will also talk about creativity and give you tips for how you too can create amazing magic with just a pack of playing cards.
Dates
March 6th: Lecture 1 March 13th: Lecture 2 March 20th: Live Zoom Q&A