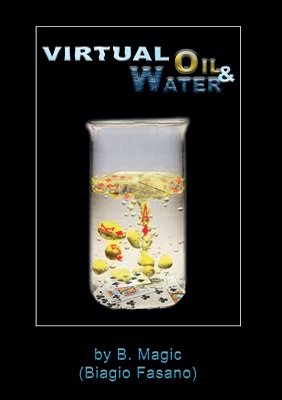 A completely hands-off Oil and Water routine.
This is a classic "Oil and Water" plot, specially designed to be performed at a distance, but not necessarily so. The magic happens directly in the spectator's hands, whether he or she is next to the magician or miles away on a video chat.
What until now could have been considered only a dream becomes reality within the reach of anyone who becomes aware of the secret: granting a spectator the "power" to perform, comfortably
seated in his house.
A routine structured in three steps will then be presented: the illusionist performs first an "Oil and Water" effect for the viewer with four black and four red cards which, when mixed together, magically separate; then he "transmits" his magic to the spectator who, following the same procedure provided by the magician, will inexplicably observe the separation of the colors, too; finally, both will perform the game one last time, repeating the same movements, at first "devoid of powers", so nothing unexpected will happen, but at the end with the help of magic the miracle will be repeated one last time!
It is possible to present each step of the routine separately, or omit the first or the last step, without the effect failing to impress the spectators.
Key Points:
Apart from the first semi-automatic demonstration step, both the following effects are "hands-off" (the spectator just follows the instructions provided)
Simple and ideal routine to perform in any situation, including remote video chat, e.g., with Zoom, Skype, WhatsApp, Google Meet etc.
For the most part they will be self-working effects, but they will remain inexplicable to anyone who does not know the secret (magicians included)
Only a dozen normal playing cards are used: six black and six red cards (no gimmicks)
Easy to learn: apart from a simple false count which is optional, once you have read the instructions you will know how to perform the effect immediately
"This time Biagio has surpassed himself, because when you go to touch a classic, and this is true in all fields, the result is not obvious… He managed to conceive a routine in which the difficulties are essentially nil, keeping all the charm that characterizes the effects of this type… The pdf is very elegant, well written and illustrated enough to better understand some salient points of the routine. In the eighteen pages of the pdf, the description and presentation of the effect are written in a clear and understandable way to everyone, and it is not a foregone conclusion. One of the strengths of this routine is certainly the simplicity, easy to perform, immediately and by anyone. The effects that involve the spectator are hands-off: he only has to follow the directions of the magician and everything happens automatically. The interesting thing is that the automatic effects will remain incomprehensible to those who are not provided with the detailed explanation of the eBook. It doesn't need any kind of gimmick, just normal playing cards. Another extraordinary thing about this effect is that it manages to amaze the performer himself… the magic of the simplicity of Magic." – Davide Rubat Remond"… As usual you did a high-quality job, excellent work also from the point of view of graphics and text fluency… Very interesting… a job well done, this once again demonstrates your great passion… A routine like this generally, if you don't work a lot, it is impossible not only to conceive it, but above all to translate it into writing, because this is even more difficult work and you know it well!" – Pino Rolle

"… A solid routine, well structured!" – Werner Miller

"This Virtual Oil &Water is excellent! Who would have thought one can create a deceptive oil and water routine that happens entirely in the hands of a spectator who could be sitting at home participating remotely via a zoom call? Biagio has done that! If you are a fan of sleight-less effects, as I am, or if you are limited to remote performances due to ongoing lockdowns and limitations on live performances, this should interest you very much. I can highly recommend it …" – Chris Wasshuber

"Great and beautiful routine. So subtle! The first phase as I followed instructions really fooled me bad … Love these moments… I think I will use it… " – John Carey