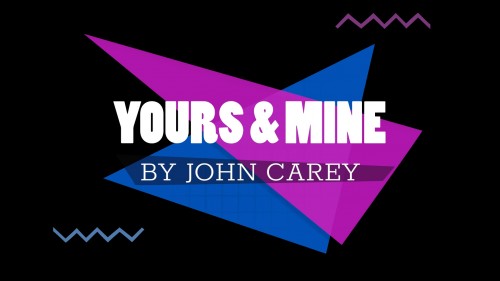 John Carey is back with another fantastic multi phased download you are just going to love!  As with John's recent downloads Yours and Mine is perfect for both online and in person performances.
Here's the heads up! A face down packet of 8 cards is displayed and shuffled and you and your participant each choose 4 cards under extremely fair conditions. You display the cards you chose have Mine written on the faces and their cards have Yours on their faces. So strong and so clean!
Next up the cards are mixed in alternating yours/mine fashion and then magically separate into two groups. But there's more! For the third phase theirs a beautiful triple transposition/follow the leader sequence you will have so much fun doing. Sneaky too!
Finally John performs a slow motion one at a time transposition of the two groups of cards that looks so magical, bringing a super strong 4 phase routine to conclusion.
On this download John is joined by Peter as they discuss the routine and break down and deconstruct the method in great detail. There's no tough moves to worry about. Just a super satisfying modular routine that you will learn very quickly and add to your performing repertoires. This is YOURS AND MINE!!!