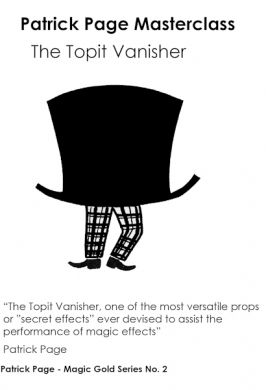 Patrick Page – Magic Gold Series No. 2
This is the 2nd in a newly released series of Patrick Page – Magic
Gold DVDs.
Patrick Page was probably the best magician in the world using the topit. The secret of using of course was that people did not realise that it existed. In this DVD learn how to use a topit successfully and make ordinary objects such as salt cellars, wine glasses, packs of cards, lighters, cigarette packets vanish and appear at will. Spectators are impressed by ordinary every day items that they have seen and used disappearing in front of their eyes. The topit is possibly the most useful magic accessory for a working magician. We sell topit vanishers separately.
In stock
Topit Vanisher Masterclass by Patrick Page
———————————————————–
Download : Uploaded | Rapidgator | Openload | Nitroflare (only Premium )