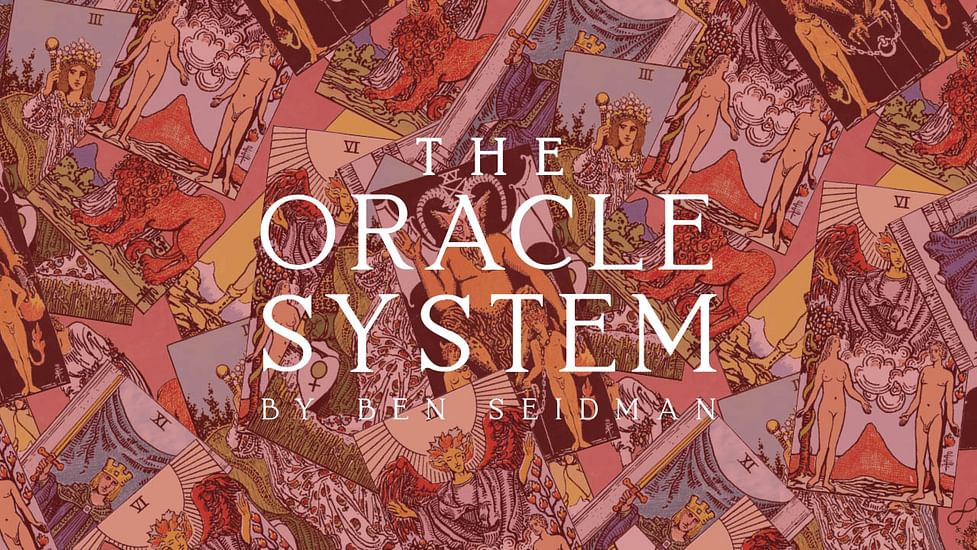 For more than a decade, Ben Seidman has guarded "The Oracle System" carefully. Now, he's finally ready to share it with us.
"The Oracle System" is a simple, powerful, pure demonstration of mind reading that is bound to immediately become one of the most moving and impactful pieces of magic in your show. Using nothing more than 10 tarot cards, you will deliver an unforgettable experience to your audience.
However, it's important to note that this is not a tarot card reading. "The Oracle System" is instead a series of powerful mentalism reveals that just happen to use tarot cards.
"The Oracle System" is all about your spectator–their lives, their choices, their future. The structure of the trick allows you to explore personal relationships and reveal intimate information. You're able to predict the choices someone will make, and even the thoughts they think, using a powerful, original cocktail of methods.
Here's a sample:
Your spectator and you each shuffle a packet of five matching tarot cards. You each eliminate four of the cards leaving just one…which, impossibly, matches theirs every time.
You then show that every card in each of your packets match, proving you each made the same decisions at every stage of the routine.
There are multiple ways for this trick to go, each as strong as the other. What's most important is that Ben teaches you how to focus your energy on being present in the moment and to deliver a performance that feels deeply personal and wholly authentic using a mixture of cold-reading, intuition and the specially-printed tarot cards.
Includes vegan leather carrying case, ten custom-printed tarot cards, and a comprehensive instructional download. You also get access to an hour-long conversation between Luke Jermay and Ben Seidman in which they discuss never before shared tips on Tarot effects and Cold Reading.
"This fooled the @%#* out of me."Shin Lim
"Ben's wickedly clever, interactive effect with tarot cards will make you look smart, insightful and magically intuitive."Michael Ammar
"Ben Seidman is a genius. If he's going to share something, anything … you buy it immediately! This creation is testament to that. It will truly become the most moving moment of real magic you share with someone. So use your new powers wisely…"Colin McLeod
"What Ben has done is create a lovely frame for delivering a personal reading as part of a commercial magic performance. This is a tough balance to strike, and "The Oracle System" makes the reading feel natural while ensuring a strong, impossible climax. If you'd like to try your hand at giving readings, this is a great way to practice because you have a foolproof safety net. If you're an experienced reader, this tool might actually be dangerous."Eric Mead
"I love this type of mentalism! Ben Seidman has taken a neat trick and turned it into something that will be remembered. A guaranteed strong ending allows you to focus on delivering a personal reading and on making a genuine connection with your spectator. Close-up mentalism at it's best!"Mike Pisciotta
"I love it. Seriously great thinking."Ran Pink
"I want to buy every set so I can burn them. This is so strong, I want to be the only one performing it."Mark Calabrese
"Ben Seidman has created a masterpiece! This is something I love and will use. It is the perfect piece for the discriminating mystery performer and their modern day audience. Bravo!"Jon Stetson
"This goes beyond mind reading, this is soul reading. I literally felt like Ben was connecting with every thought and emotion I was experiencing. Definitely a game changer. I will carry this on me; always"Spidey
"This is so good, you don't need a quote from me"Eric Dittelman
"A thoughtful and powerful effect, with secrets of audience management that will make anyone a better magician."Kostya Kimlat
""The Oracle System" is the perfect effect when you want to deliver an emotional impact for an intimate audience."Karl Hein
"When a top pro releases an item, it has my attention. You can see that Ben has done this, thousands of times, and he passes on all that knowledge to you. Recommended for anyone looking for powerful close-up"Danny Archer
"With "The Oracle System" Ben Seidman has not only combined a classic method with a beautiful presentation; he also has delivered a tool that will raise the temperature on anyone's cold readings."Jared Kopf
"Who would have thought a diminutive red-headed comedy magician would have such a profound take on doing a legitimately mysterious and commercial tarot reading? Damn him!"Max Maven