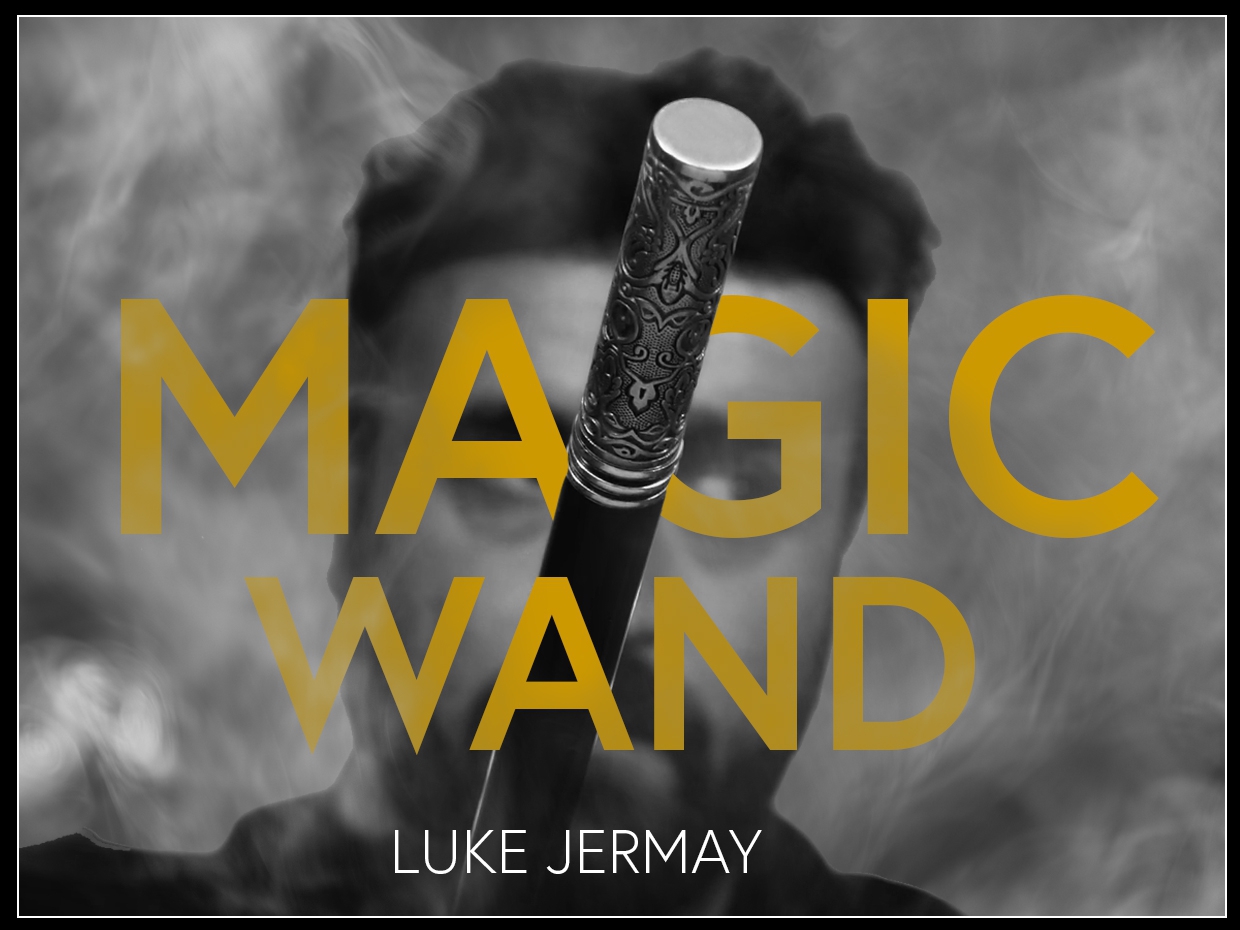 Magic Wand Instant Download in PDF format, 10,105 words.  Bonus routine 'Taste' PDF Format and Video Download (1 hour 30 minutes). Full performance rights, in all performance settings are included with purchase.
The Magic Wand is a professionally scripted fifteen to twenty minute routine that can be performed in close up, parlour and stage settings.  Jermay's word for word script is covered in detail alongside a deep dive examination language, technique and the performance approach used to bring the routine to life in real world performances.
The Magic Wand showcases a series of amazing phenomena alongside a mysterious script that might best be described as 'performance occultism.'  A radically fresh and unique approach that offers the modern performer a decidedly different tone and mood when presented among traditional mentalism.
A spectator inexplicably finds themselves unable to lift a magic wand from the performers hand, then unable to open their eyes, then unable to stand before finally becoming magically weightless allowing them to be impossibly lifted by four other spectators as if levitating.
This routine is a masterclass in how to take classic 'body magic' stunts and with intelligent, subtle and deceptive language, structure and theatrical staging transform them into miracle experiences for modern audiences.  No pre-show work, stooging, suggestion or hypnosis is required.  The routine is failsafe thanks to the clever blending of 'body magic' stunts, a compelling narrative and unique subtle justifications and convincers for these often overlooked methods.
Thanks to its structure and intriguing narrative The Magic Wand is one of Jermay's favourite routines to perform, offering more than the sum of its parts in performance. It has a simplicity and elegance that makes for a powerful and direct experience for an audience that is unlike any other trick you will perform.
As useful as the clever techniques and modifications to classic body magic methods are, the professional performance script is the real star of the show, offering a compelling narrative focusing on the magical direction and manifestation of mental energy.  The script is suitable for mentalists, psychic entertainers and even magicians who veer toward a more mysterious and unexplainable performance style.
Instant Download in PDF format, 10,105 words.  Full performance rights, in all performance settings are included with purchase.
To perform the effect you will require a magic wand or stick and one very simple to make gimmick utilising a household object you probably already have.  While the routine uses language to the performers advantage it is possible to perform this routine in any language you wish.
TAKE ADVANTAGE OF THE INTRODUCTION DISCOUNT AVAILABLE FOR THE FIRST 48 HOURS!  After the first 48 hours of release this product will return to the standard pricing.
FREQUENTLY ASKED QUESTIONS:
What are 'Body Magic' stunts?
Body magic stunts appear across classic magic and mentalism literature, you will probably have encountered these types of methods before.  In a basic sense they are 'tricks' that use the subtle secrets in physiology to bring about remarkable looking phenomena.  Often they are overlooked by magicians and mentalists due to the challenge of justifying the actions the spectators needs to take to ensure success.  However in The Magic wand unique and effortless solutions for justifying the processes is offered making these often overlooked methods even more direct and effective in performance.
Will this routine work in languages other than English?:
While the script is a part of the method for this routine, it is not limited to the English language.  You will need to translate and adapt the script offered to your own language but none of the methods utilise aspects of duel reality, ambiguity, suggestion or double speak.  There is no reason the routine can not be performed in whichever language you wish.  Personally I prefer the Romance languages and think this would probably sound lovely in French.
Does this routine use hypnosis or suggestion?
No.  All of the phenomena used in this routine is failsafe and surefire.  No hypnosis or suggestion is needed to perform the routine exactly as it is described.  With that said, this routine is an excellent bridge into hypnotic phenomena and can be used as an excellent gateway into genuine hypnotic phenomena if you wish.
What props are required?
To perform the routine you will need a magic wand or stick and a simple to make gimmick.  The gimmick is made from a common household item.  It is not expensive and can be purchased on every single high street in the world and can be made by anyone easily.  I am not a skilled gimmick maker.  I can barely use a glue stick.  If I can make it, I am 100% sure anyone can!
Where can this routine be performed?
The routine is not limited by its method to any specific performance setting.  The methods are suitable for all performance settings in which you are in the same space as the spectators.  A minimum of 5 people is needed, if you intend to perform the routine with the climax outlined. However, each part of the routine can be performed in isolation with smaller groups if desired.  I have performed this routine in parlour and stage settings as well as in more casual settings with small groups.  No pre-show work or duel reality is used, making it suitable for small groups who know each other than will talk to one another after the performance. While not covered in the manuscript, with some adjustments it might be possible to use this routine in virtual performance but to do so will require you to rework the routine yourself.
Are performance rights included?
Yes!  I release the material I share with the community in the highest hope that you will actually perform it!  All performances settings, including television, are granted with purchase.  Nothing is reserved.  I am always thrilled when I hear people tell me about their successes performing my material. I put no barrier in the way of that success!  Please perform this routine it will make me smile knowing you are!
How hard is the routine to perform?
The methods are simple.  However, as with all good material, practice, understanding and preparation are needed to best present it to an audience.  There is no challenging sleight of hand or techniques that will require years of dedication to master.  I believe this is no such thing as a 'self working' routine.  However, on many levels the phenomena are as close to self working as possible. I believe with some simple rehearsal and practice anyone in the world, no matter their skill level, will be able to perform this routine well.
What is included in the download?
The routine is taught in detail in a PDF/eBook that is available for download instantly after purchase.  The PDF is professionally edited and typeset and contained 10,105 words.
Can I get a refund?
As with all magic, you are purchasing the secret.  Therefore it is not possible for a refund to be granted.  The secret is the purchase and all purchases are final.