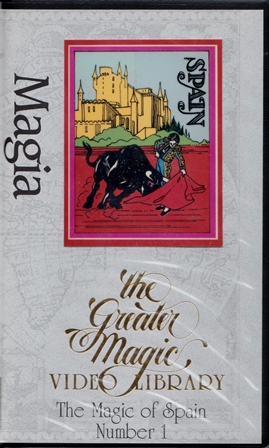 Arturo De Ascanio share his best card magic flow with you !
Spanish magicians are revered around the world, especially in closeup. This is largely due to the efforts of Arturo Ascanio and Juan Tamariz who spread the philosophies of their countryman, Jose Frakson. Jose fervently believed magic was a fine art and deserved great respect. The magicians you see on this video today embody what Jose, Arturo and Juan spent their lives upholding. Here you'll enjoy the whimsical alongside the poetic. Gaby does Smooth Ace Assembly. Manuel Cuesta performs Ball Of Fire. Mago Migue shows the Improved Reverse Card Routine. Miguel Gomez
does Wild by Twos. Ramon Rioboo performs Impossible Stapled Card. Miguel Angel Gea shows Ethereal Coins. Camilo Vazquez performs Scotch Dice. Damaso shows The Queen, The Joker … and The Ace. Juan Tamariz and Pepe Carroll perform The Cheaters. This is another item from the Greater Magic Video Library.