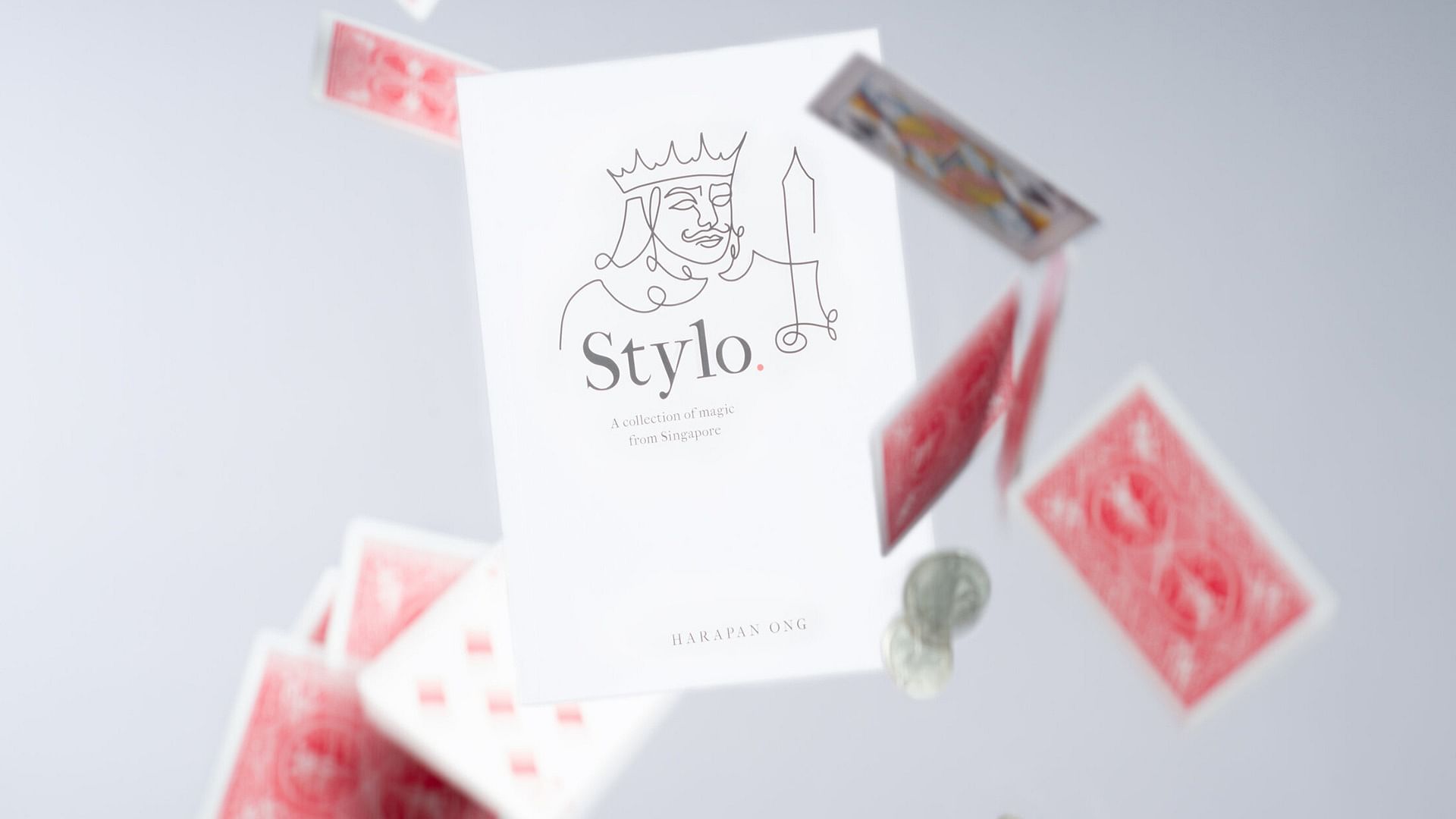 Harapan Ong is back and he's brought friends!
While Harapan Ong has been fooling magicians around the world with his one-of-a-kind card magic for years, he's truly been an unstoppable force since bursting onto the mainstream magic scene with "Principia" (one of Vanishing Inc.'s best-selling magic books of all-time) in 2019.
In doing so, Harapan helped put the wildly-creative thinking and talent of Singaporean magic on the map. And now, with "Stylo", he's thrilled to share with you an amazing collection of original
card tricks and coin magic from some of Singapore's most talented magicians.
"Stylo" is a love letter to the best modern close-up magic in Singapore. You'll enjoy eight of the most cherished creations from Avi Yap, Ryan Goh, Yu Huihang (who you may know from his best-selling exclusive coin magic download bundle), and, of course, Harapan himself.
Boasting the perfect blend of card magic tricks and coin tricks that use pure sleight-of-hand, as well as those that capitalize on gimmicks, there is truly something for everyone. Each effect is described in meticulous detail across nearly 90 pages and 100 beautiful black-and-white photographs.
Contents
Avi Yap
"Monarch" – Avi's reputation-making Matrix routine
"Three Coin Monte" – Using three different coins, you create multiple moments of magic with this classic con done entirely in the hands
Yu Huihang
"Matrix in China" – A stunning variation on a classic Matrix effect with a kicker ending that will stun every audience
"Co-Inky-Dink" – Two playing cards freely chosen by you and the spectator impossibly match in this delightful coincidence effect
Ryan Goh
"Big Brain" – Ryan breathes new life into a beloved classic magic trick with his unique take on the Brainwave Deck
"Double Thot" – Not only do you find the spectator's chosen playing card, but they also mange to find yours in this spectacular card trick that memorized deck fans will adore
Harapan Ong
"T.P.B. Production" – A fancy and explosive tabled Ace production that exudes elegance
"Solvedzinser" – One of his favorite card tricks he's ever created, this is Harpan's wonderfully original take on the classic Hofzinser Ace Problem
86 pages | 100 black & white photos | High-quality paper stock | Cover design by @squigglyline.co