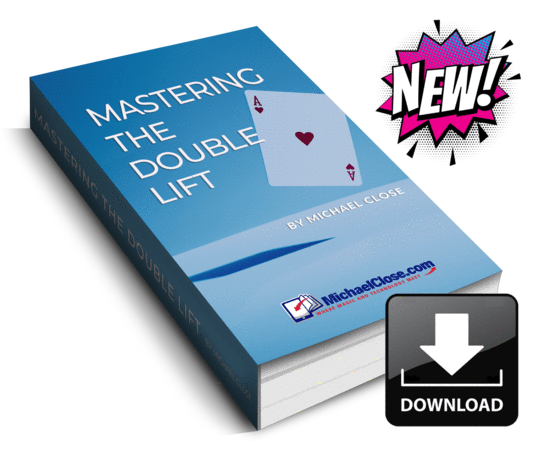 Mastering the Double Lift by Michael Close follows the format of our previous sleight-based ebooks on the faro shuffle and palming techniques.

The double lift is a core move in myriad card tricks. Now you can learn to perform this move naturally, deceptively, and confidently.
Three practical double lifts, six get-readies, and four real-world effects are taught using the perfect combination of text, photographs, and videos.
Don't be satisfied with "just good enough." Take your card magic to the next level.
Michael teaches not just the mechanics of a sleight; his instruction helps you learn how to learn, allowing you to perform the sleight deceptively and with confidence.
Michael discusses three practical methods for the double lift:
The Vernon Light Lift
The Pseudo Push-off Lift
The MC Spread Double Lift.

PLUS six different double-lift get-readies!
And, as a BONUS, four practical, real-world routines are included.
The twenty thousand words of text are accompanied by eighty-two full-color photos and thirteen videos. The combination of text, photos, and videos provides a level of training second only to private instruction.
Hundreds of methods for the double lift are scattered throughout the literature. No one but Michael Close provides you with such a logical system for learning and mastering this valuable sleight.
As with our other ebooks, you'll receive both an EPUB file (created for reading on tablets) and a PDF file (perfect for your computer and for printing).
Download your copy today.