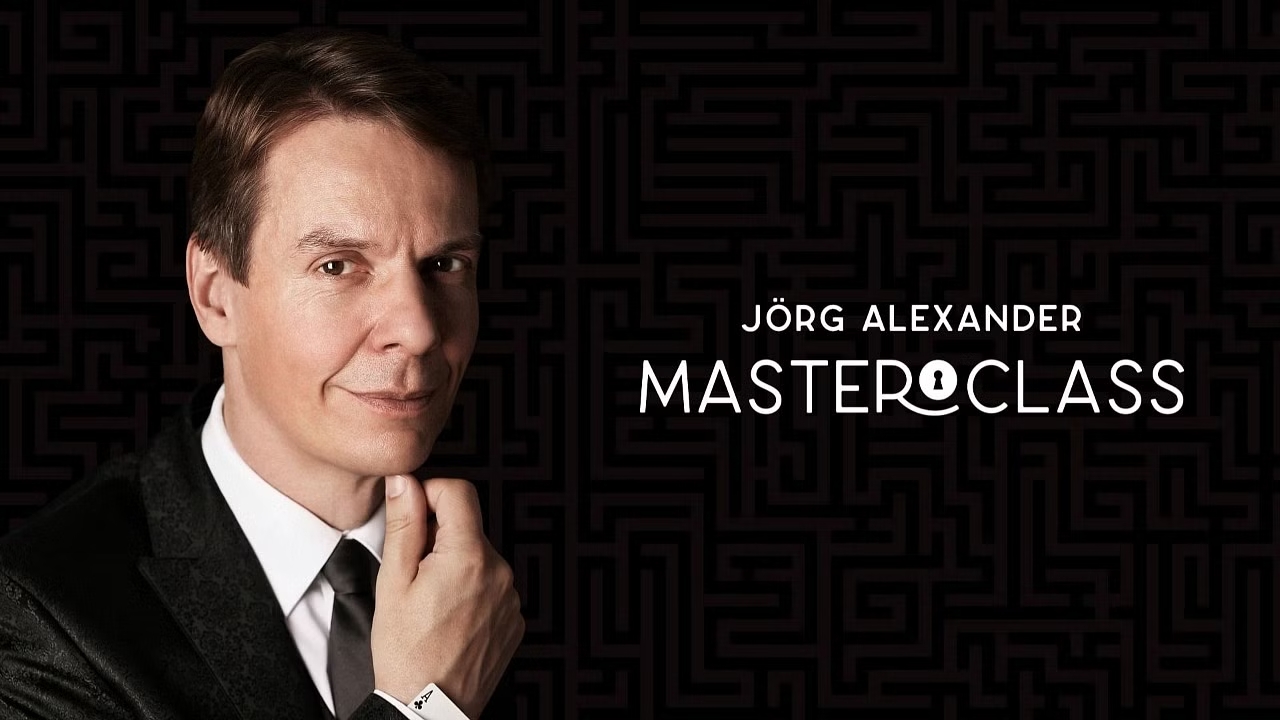 Hailing from Germany, Jörg Alexander is one of the most talented sleight of hand artists in the world. His unrivaled ability to combine remarkable technique with captivating presentations has allowed him to enjoy a long and illustrious career. We are so delighted he'll be joining us to share some of his greatest secrets as part of a special Masterclass in July.
This truly is a rare treat you won't want to miss. Jörg's rigorous performing schedule has often left him with little time to release material or lecture for a global magic
audience. When he does though, it's always a massive success, as seen by his incredible performance on Fool Us or his "Sympathetic Ten" routine, which is often referred to as one of the best parlor tricks created in recent years.
Jörg is as adept in a parlor room as he is wowing a crowd with his innovative close-up magic. Lucky for you, he'll be sharing some of his best material for both situations during this amazing Masterclass.
Everyone who buys the Masterclass will receive Jörg's complete show ahead of time. He will then breakdown and explain the most important elements, plus so much more, across two amazing 90-minute sessions that will be followed by a live Q&A where you can ask him any questions you have. This is a true dream Masterclass for anyone who likes novel ideas and techniques.
You can purchase the "Jörg Alexander Masterclass" separately or you can save big by getting it as one of the many perks offered to members of VI Masterclass—which is easily the best deal in magic.
Don't believe us? You can
Session 1 – July 2, 2023 (4pm ET | NYC time)
You'll get to see Jörg in action and also learn:
Coin Fold Opening (Vanishing Coin)
Zen and Art of Finding the Aces (Featuring a discussion of stand-up card magic as a whole and various versatile techniques)
Unlocked
Past, Present, and Future
The Salt Routine
And other surprises
Session 2 – July 9, 2023 (4pm ET | NYC time)
Session 2 will offer an in-depth exploration of Jörg's work with banknotes, including an effect similar to the one he performed on Fool Us:
The Euro Effect
Exchange Rate
Paper to Money
Jörg will also take you on a deep dive into his thoughts on how to properly structure a magic show.
Live Zoom Q&A – July 16, 2023 (4pm ET | NYC time)
Join us live and ask Jörg any questions you have!
All sessions will be available in your account to watch on-demand anytime you want immediately after they air.