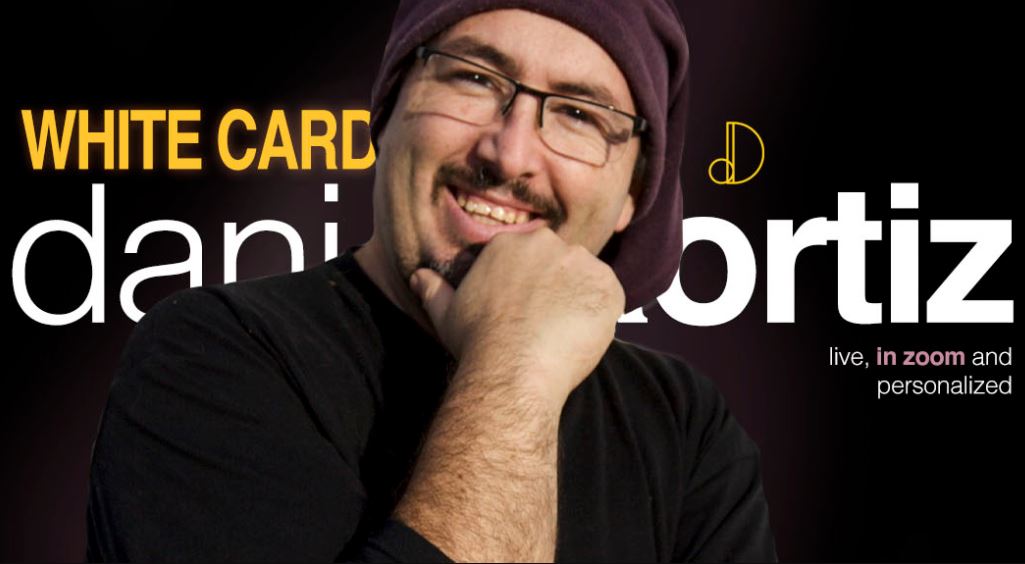 Dani DaOrtiz first seminar via Zoom, to be in direct contact. A seminar, called "White Card".
THOUGHT CARD, SEMI WEAPONS AND WHITE CARD
Under this title, Dani will not only present the latest of his philosophical and technical thoughts, but will also spend a large part of his time presenting topics on request.
Dani will present the subject of the Thought card, as you have never seen it before. New concepts, techniques and effects. Likewise, on a second day, he will review new semi-automatic techniques
that not only help you perform the miracles presented by Dani, but will also help you to have a great arsenal of strong semi-automatic that you can use in many other routines.
And to finish each day, A la CARTE: a unique opportunity for Dani to correct any of the techniques explained in the seminar, or general doubts about his magic, in the first person.
A unique opportunity to learn the new concepts, techniques, forces, games or thoughts that Dani is going to share directly for you. And if you don't understand something, Dani will explain it to you directly in the first person.
EVERYTHING WILL BE RECORDED FOR ATTENDEES
If we constantly hear something from all magicians, it is that they always find new things when they return to read a Dani book or watch any of his videos. Therefore, this work and all its immense content will be recorded for life for all attendees.
6 HOURS.2 DAYS.
The seminar will be given in English, on July 4 and July 11, at 7:00 p.m. (Madrid Time), and will last 3 hours per day. 6 hours in total of content that we will undoubtedly take advantage of for a long time.
A PRO SEMINAR. WITH PUBLIC.
The seminar will be carried out in a multicamera way and live edition, so that you do not miss the smallest detail. Similarly, Dani will be accompanied by some friends, who will facilitate each explanation.
SUMMARY INFORMATION
Platform: Live via Zoom
Days: July 4 and 11 (in ENGLISH).
Time: 7:00 p.m.
It will be recorded.
For good communication, attendance will be limited. Therefore, reserve your place as much as possible. If you can't be there on the day of the event, don't worry, it will be recorded for you!