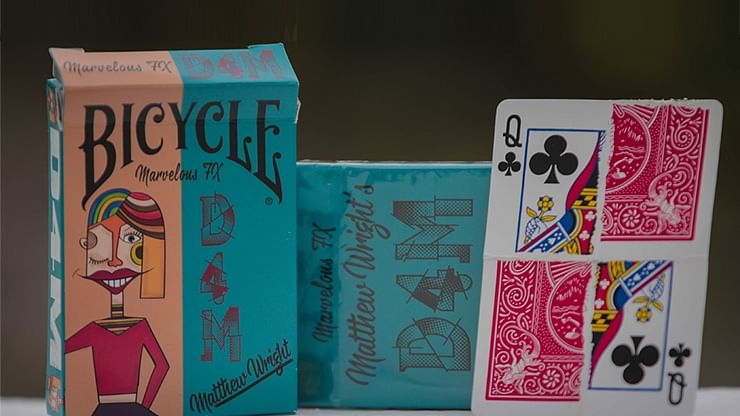 D4M is an incredibly visual and unique torn and restored card effect. It is fully examinable and leaves your spectators with a souvenir they will want to keep and show forever.
A spectator selects a card, which can be completely inspected. It is then marked for identification. The magician tears it into quarters and then inexplicably restores the pieces back together with two of the pieces reversed.
Hyper visual and instantly examinable.
With full and comprehensive download instructions, no stone is left unturned and many avenues of performance and routining are explored. This truly is a masterpiece of modern magic and something you will feel proud to be able to perform as part of your working repertoire.
D4M is designed to be a real world worker. With only a couple of seconds prep time, and angle concerns kept to an absolute minimum, D4M is perfect for close-up table hopping, parlor and even stage work.
D4M comes with 27 reusuable gaffed cards, 27 "practice" cards, and 52 regular matching cards.
Fully downloaded instructions including Matthew's full table-hopping routine.
This is straight out of Matthew's FISM act and has won plaudits from magicians across the globe.
"Matthew has created a brilliant spin on T and R here where the card becomes restored in an inverted state. Just fantastic and something really different with this classic effect!"
– John Carey
"Short and sweet Matt, it looks fucking awesome!"
– Gary Jones
"Amazing visuals and an unexpected ending are some of the key ingredients of Matthew newest T&R that make it one of the best."
– Joao Miranda
"An exceptionally magical handling of a proven classic…Pure visual stunning magic."
– Jeff Mcbride (creator of the Magic and Mystery School, Las Vegas)