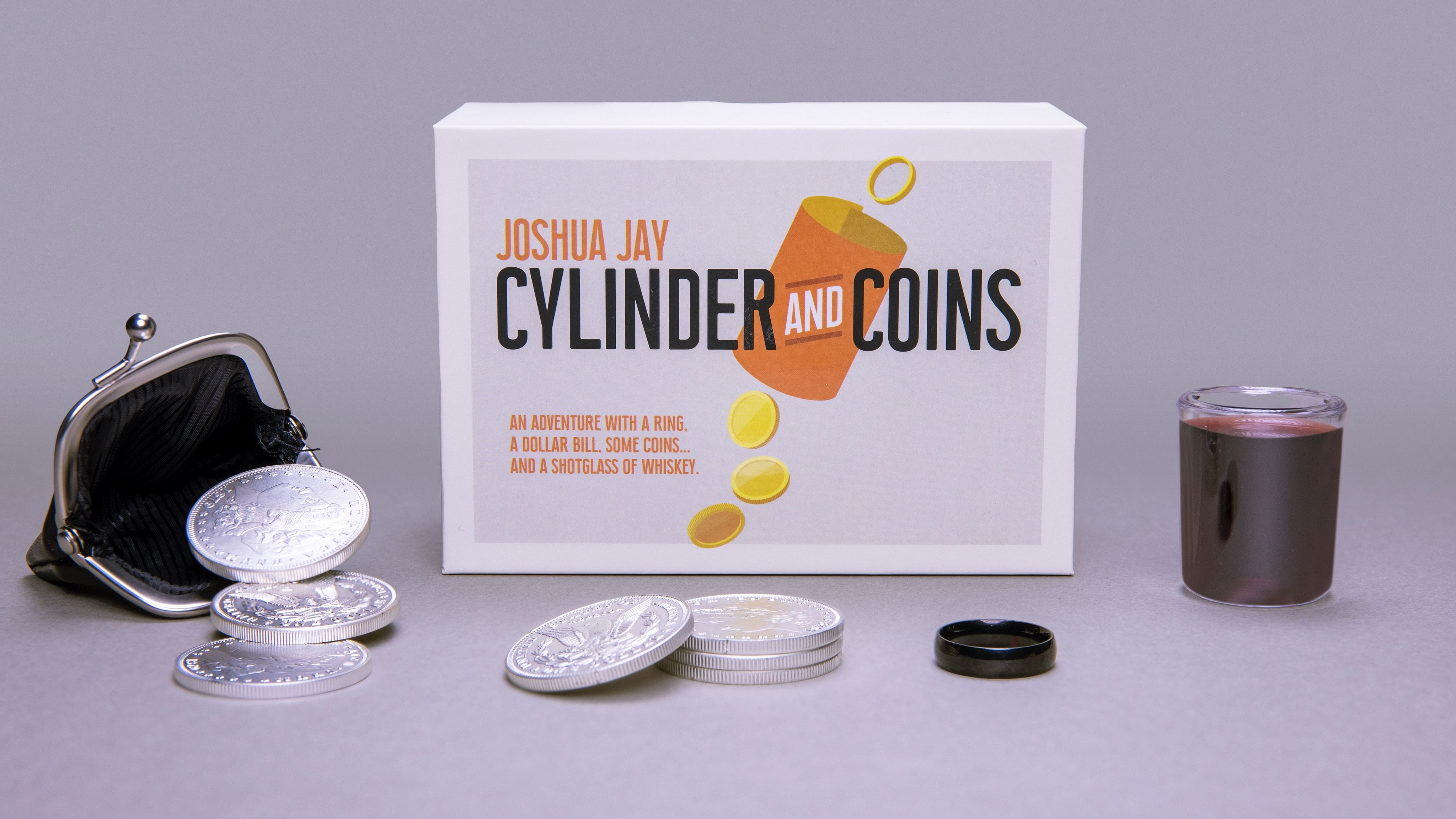 Joshua Jay has rebuilt one of the greatest close up magic tricks of the last century from the ground up to be more organic and entertaining than ever. A classic of magic has been reborn for a modern audience.
John Ramsay's classic coin trick "Cylinder and Coins" is one of the most important magic tricks ever created. Like the Cups and Balls or an Ace Assembly, it is a rite of passage that all serious magicians must tackle at some point. Offering so many moments of genuine surprise, it is everything that is great about close up magic.
However, unlike other classics of magic, it is rarely performed by the current crop of magicians. That changes today.
While Joshua Jay's "Cylinder and Coins" keeps the same basic idea as the original, nearly everything else has been changed. This includes many of the props and the addition of a stunning kicker ending that gives the routine a more complete conclusion. We don't want to spoil anything. So, check out the full performance in the trailer above before continuing and you'll see what we mean.
Everything You Need to Know about Joshua Jay's "Cylinder and Coins"
Joshua's routine has been in development for more than ten years, and it's one of his most heralded sequences. He has performed it on national television in the United States and abroad, and it has been exclusively in his repertoire, unpublished…until now.
The Handling
There are many structural changes to the original routine. Joshua has reduced the standard use of four coins down to three as it helps the trick be less repetitive and eliminates many handling issues. The wand has also been eliminated as it's not a prop often found in today's magic acts.
The Props
Speaking of unfamiliar objects, this effect typically used a leather cylinder which, to most audiences, looked like a magic prop. For this version, a rolled-up dollar bill is used instead. It feels far more organic and innocent. You don't have to use an American bill either as you receive the necessary gimmicks to quickly transform any bill into your "cylinder".
John Ramsay's classic routine also had a piece of cork transpose with the coins. This out-of-place prop often needed extra explanation. In this version, Joshua uses a finger ring. An object that is recognizable and identifiable without ever having to say a word, and is easier to manipulate.
The Gimmicks
This routine also introduces the magic community to a brand-new version of "Triad Coins" that helps make the vanishes easier and more effective than ever. For the first time, we're including dollar sized "Triad Coins" constructed of replica Morgan Dollars. They are a stunning prop and the perfect size for performing "Cylinder and Coins".
Those familiar with the original "Cylinder and Coins" effect will be happy to learn that the stack of coins in this version is not "static". You receive a special something that adds a fairness to the routine never seen before. You can interact with the spread and even lift a coin off.
With this precision-crafted professional "Cylinder and Coins" kit, you'll get everything you need to insert this showstopping new routine into your set. The one-of-a-kind stack of coins, the first-ever official "Triad Coins" dollar set, gimmicks for your bill, the finger rings, and the very special something for the end of the routine, are all included. The props are of the highest quality.
Get ready to unlock the secrets to one of the greatest close up magic tricks of all time: "Cylinder and Coins".