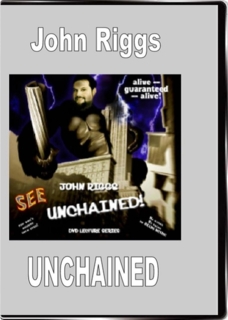 In 1996, John Riggs was released from his cage to present a lecture at the Meeting of the Minds in New Jersey for the Psychic Entertainers Convention.  He performed and explained several of his pet effects from his writings.  Included in this one-hour DVD re-release is:
Procrastinating Prognosticator (including all the original handling and bad jokes)

They Hell Fire (one of the strongest close-up mental effects you can do)

Add-A-Riggs One and Add-A-Riggs Two (one switches numbers and one DOES NOT!)

Bear Your Soul (You present an audience member with a teddy bear carrying a letter signed with the name of the bear they had when they were a child.

An extensive discussion on Pocket Writing and much discussion on performing tips and philosophy.