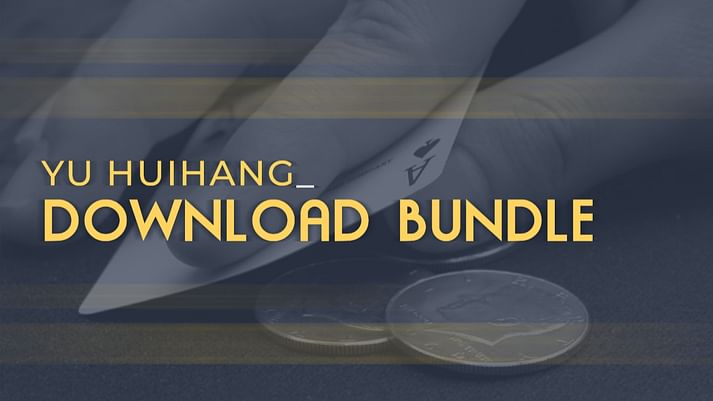 Yu Huihang is an underground coin magic master from Singapore known for his innovative and deceptive takes on classic coin magic tricks.
In this special download bundle, we're proud to present seven amazing coin magic routines from Yu Huihang, including four unique takes on the coin matrix, two different ways to present the "Charming Chinese Challenge", and even a 3 Fly that can be viewed from behind.
The crystal clear instruction teaches you everything you need to know without any of the added fluff. They're easy to digest, while still offering all of the important subtleties that transform these
routines from simple magic tricks into miracles.
These are the perfect effects for anyone who is interested in truly novel coin magic. While this bundle is geared toward intermediate magicians, there is nothing in here that would be considered extremely difficult.
Here's what you'll learn
"Back to Where They Started" – A beautifully choreographed coin matrix that ends with the coins impossibly returning to the coin purse from which they were first introduced.
"Backfire" – A delightfully quick (but not rushed) matrix with multiple magic moments and a surprise ending.
"Reverse Matrix" -Yu adds his signature creative touch to the concept of performing a coin matrix in reverse.
"Surprise" – Four coins are openly covered before jumping to the four corners of the mat with a quick snap and then back to the leader card just as quickly. We never saw this last phase coming and it fooled us real bad.
"Backview 3 Fly" – One of the standout effects from this bundle, "Backview 3 Fly" gives the audience a chance to see a "3 Fly" routine from the "magician's POV". Super visual and a ton of fun to practice and perform.
"CCC on the Table" – A very fair and open tabled version of the beloved "Charming Chinese Challenge" effect filled with stunning visual moments.
"Yohei's CCC" – "A multi-phase "Charming Chinese Challenge" routine that doesn't require any extra coins and has been meticulously structured to make the spectator feel involved in the magic. Includes a BONUS triple transformation of all the coins.
"Visual, direct, and well thought-out routines, I love it!"Troy Hooser
"Lots of fun visual ideas"Danny Goldsmith
"These are the first worthwhile Matrix variations that I've seen in a long time. Surprise is wonderful, and fools everyone. Yu's magic is well-constructed, clever, challenging, and he's right, Charming Chinese Challenge looks better on the table. Palms of Steel approved."Curtis Kam
"Be prepared for some very smooth magic, and some nice work on the Reverse Matrix and Charming Chinese Challenge. Taught clearly with good camera angles, you will be sure to learn the routines that are presented."Dr. Michael Rubinstein
Running time: 72 min. English, with optional Japanese subtitles.