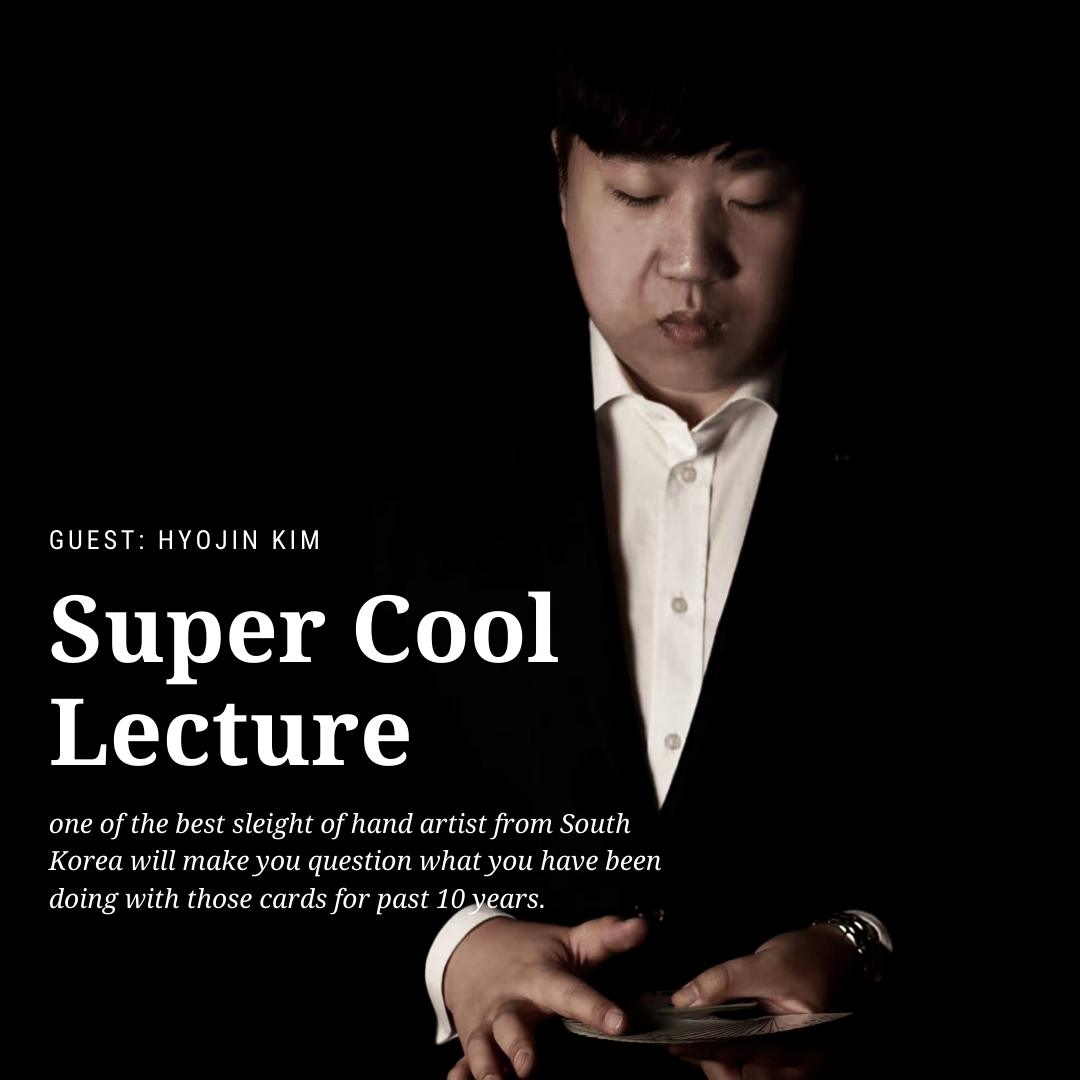 first met Jin at 2018 FISM Busan.
I didn't think much of him because he didn't feel like the kind of guy who would bring me much pleasure and excitement with his deck.
Well, I was wrong.
He showed me 3 routines that night, and I got so excited that I made a group chat of friends who I know are at FISM and said…
YOOOOO I'M AT XXXX COME HERE RIGHT NOW WE GOT SOMECRAZYYYYYSXXT RIGHT HERE WOWOWOWOWOWOWOWOW
I want to share that exact excitement Jin brought to me with you.
I want to make you feel like a newbie in magic too.
I want to watch your face when you see Jin's work 😈😈😈
You can miss your bus, but you can't miss Super Cool Lecture by Jin!
Join me at 8 PM on June 4 so we can get fried together!
FROM THE SUPER COOL LECTURE, YOU WILL LEARN:
1. Heel Break
"I was fooled by a simple double lift 3 years ago.
It was too natural.
After realizing that guy used Heel Break, I changed the way I hold breaks since then.
Did you know that…
Heel Break can be used even if you have spectators sitting right next to you."
2. Damaso Pass
"It was merely a curiosity in the beginning.
There is no way… No way it is accomplished with sleight of hands…
But it was, in fact, sleight of hand…….
I asked the creator, Dámaso Fernández, to teach me the technique and spent countless hours on it.
There are only 2 people in the world who know the secrete behind Damaso Pass.
Those 2 people are Dámaso Fernández and me.
Feel the pain with me.
If my words provoked your interest, then we are on the same boat now.
You can't run away from this!"
3. Windmill Change
The performer fans a deck of blank cards…and……. It is too great to describe with mere words. You have to watch this!
4. Mirage
It looks like 4 cards from the front, but it also looks like 3 cards from the back?
Cards vanish one by one and reappear.
The question is…
How!!!!!!!!
5. Outsider
Her smile is beautiful. She has the perfect teeth… But why is she tearing up?
… Him too?
I have seen quite a handful of spectators tear up while smiling after watching Outsider.
Maybe this routine feels like a self-portrait to them?
6.Mystery Card
Suzan Madison signs her name on the back of a mystery card with a pink sharpie. The performer casually places the card into an empty card box while flirting with Suzan.
Although Suzan is more interested in the performer's humorous persona and handsome face, she is still asked to pick another card from the deck because the performer wants to make some magic happen here. The selection is 6 of Diamonds.
Oh, wow, the mystery card in the box has vanished!
The performer pulls out his deck and the signed mystery card is in his deck!
Suzan's hands are shaking. Mom's spaghetti.
The performer confidently whispers, "turn over".
Suzan carefully turns over the mystery card…
OH MY GRAFFITY! IT IS ALSO A 6 OF DIAMONDS!
7. Pendulum Control
A super slick control that is named Pendulum Control!
IT IS!
PENDULUM CONTROL!
DETAILS:
Platform: Zoom
Duration: 2 Hours
Time: 8 PM ET 6/4/2021
FAQ
How do I join the lecture?
You will receive an email with an invitation link 1 hour prior to the lecture. Zee will be in the room so you guys can have a mini session while waiting for the lecture to start.
Is the lecture in English?
Yes. Zee will be there to translate for you.
Are Jin's downloads in English?
Yes, they have subtitles.
Will I receive a recording of the lecture after the lecture?
Yes. It will be in your email within 24 hours after the lecture ends.
I can't attend the lecture, but can I still get a recording of the lecture if I buy ahead?
Yes!
How difficult are Jin's materials?
Nothing is extraordinarily difficult in this lecture. There are a couple of difficult ones, but the easy ones are super visual and cool too!
Will I be able to purchase the bundle or the lecture after 6/4?
Jin's downloads will still be available after the lecture, but we don't sell recordings of the lecture afterward.