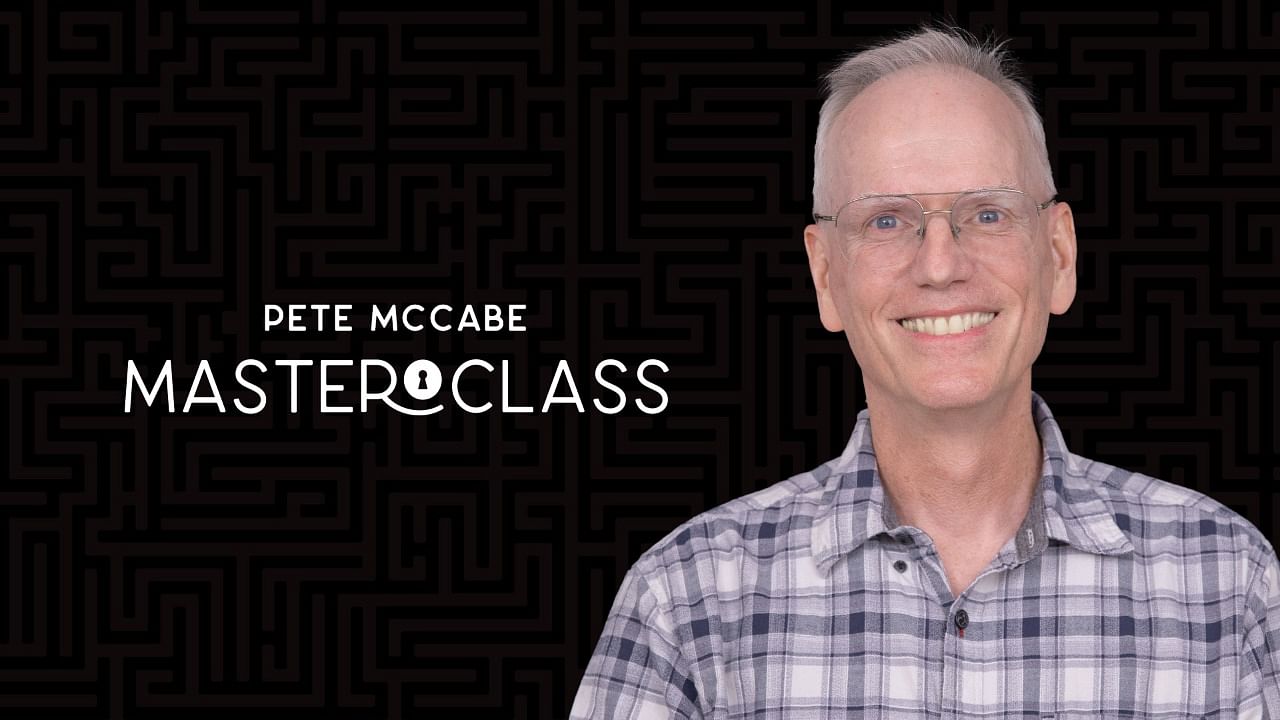 Every magician eventually has to face the tough-to-swallow reality that learning more magic tricks doesn't make you a better magician. To truly create an unforgettable experience for your audience, you must recognize that what you say is just as important, if not more important, than what you do.
Nobody knows this better than Pete McCabe. His Scripting Magic series features two of the most transformative magic books ever written. We're so thrilled to welcome Pete in for a must-watch Vanishing Inc. Masterclass for any magician that wants to improve their overall performance.
This one-of-a-kind, interactive experience is designed to help you make every trick you do better by harnessing the power of scripting. It has been carefully developed to offer value for magicians of all skill levels from scripting veterans to those who have never scripted a magic trick in their life.
Over three weeks of lessons, Pete will expand upon the core concepts of Scripting Magic while also offering real-world examples for the first time on video and sharing new details that have never been shared with a mass audience before. He will also provide specially-made creative exercises that allow you to put your new skills into action and will host our most unique Zoom Q&A ever. You are guaranteed to walk away from this Masterclass a better magician.
"Pete McCabe's Masterclass" is available separately, but the best way to enjoy it is by saving big as part of Vanishing Inc. Monthly. For nearly 35% less than the cost of one Masterclass, members of Vanishing Inc. Monthly get Masterclass and access to our Vanishing Inc. Studio streaming magic tutorial library, as well as free shipping on every order in the US or UK (discounted shipping everywhere else).
Class 1 – October 2, 2022
Class 1 offers an exclusive look at the highly-regarded "Scripting Magic" workshop that Pete has presented at conventions and clubs for over 15 years. He'll then share some real-world examples, including, for the first time ever on video, teaching some of his own tricks to show the power of scripting.
Pete will also answer five of the most frequently asked questions about scripting magic before sending everyone home with the challenge to script one of their own tricks. Armed with these new tools, you'll quickly learn it's easier to script magic than you ever thought.
Class 2 – October 9, 2022
Bring your first draft to Class 2 because you'll be learning how to evolve it using a curated selection of the most important advanced techniques from the Scripting Magic series. This includes some new information that has only ever been presented to a close group of friends. Pete will also share some more scripting examples and tricks, and answer the other most frequently asked questions.
Class 3 – October 16, 2022
Join Pete live during Class 3 for the most unique Zoom Q&A session ever offered in the Masterclass program. Magicians that attend live will have the chance to share the results of their creative exercise and workshop it live by asking Pete any scripting question they have. You not only get this one-on-one session with a master of his craft, but will learn a ton from watching other magicians work through their own material.
Sign up for Vanishing Inc. Monthly to ensure you don't miss "Pete McCabe's Scripting Masterclass."