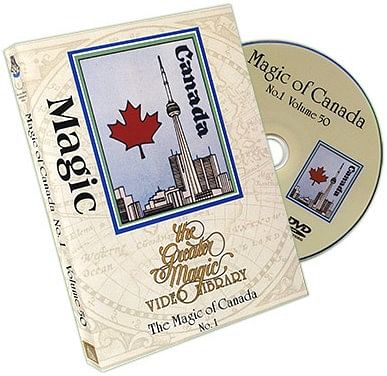 We asked our neighbors to the North to perform a few tricks for our cameras. Even after three and half hours of nonstop magic, they still had more up their sleeves. We've divided the material into two spectacular videos. Were else can you see the most brilliant minds and deft performances of seven outstanding Canadian magicians? You can now in the comfort of your own home.
James Cielen shows Award Winning Stage Magic and Multiplying Balls.
Carl Cloutier performs Ring In Kiwi.

Jay Sankey shows Dough and Stirring Silver.
Gary Kurtz does Tug and Good Eats.
David Acer performs Lickety Flip, Card Coin Holder & Money Flies.
Gary Ouellet shows Optical Aces.
Dean Gunnarson performs Rope Escape and Houdini Milk Can.
This is another item from the Greater Magic Video Library.
Running Time: Approximately 2hr 01mins