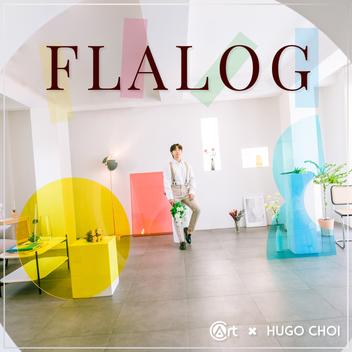 We have seen a lot of card magic. We know what will capture your audience's attention.FLALOG is the one you need in your performance list. It is a collection of three visual card magic routines beautifully constructed by Hugo Choi.
These are not just a collection of one move eye candy. This is a collection of fully constructed routines with every details polished. 
Each routine has a different flow and story to take your card magic to the next level.
EXAM: An audience selects a card and the magician put it back to the deck of cards and shuffles it thoroughly. Stick a bookmark to the deck of cards and give a simple magic gesture and the bookmark will suddenly appears on the audience's chosen card in the middle of the deck. 
EACH BIAS: Sticks 4 different colored bookmarks to a card and with a magical gesture, all the bookmarks vanishes. When the magician riffles through the deck of cards, all the bookmarks will reappear on four different cards. All four cards with the bookmarks are four Aces. 
FIND OUT: One of audience chooses a card and then put it back to the deck of cards, and shuffles it thoroughly again. The audience insets the clip onto a card and with a simple magical gesture by the magician, the paper clips vanishes. When the audience spread the cards, a paper clip is clip to the audience's chosen card in the middle of the deck.
BONUS: Color Changing Bookmark
Two options are available:
Option 1: DIY Edition 
Digital Streaming Video only (No material mention in the video are provided). The video will go over every detail on how to make the FOUR different gimmicks required to perform these 3 beautiful routines. 
Store Manager Note: 
Additional material is needed to make the gimmick and is not supplied with digital purchase.