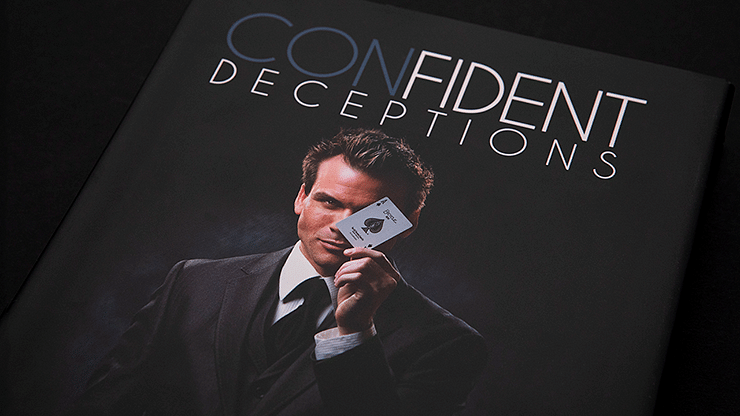 A star protégé of Darwin Ortiz, Jason Ladanye cements his own place as a card magic master by sharing some of his most powerful card magic routines.
Confident Deceptions is the debut book for Jason Ladanye. Throughout the pages of this stunning, nearly 250-page hardcover book, you'll find an array of strong, commercial material that is ready to insert directly into your working set. Each of the 18 included routines have been plucked directly from Jason's extensive repertoire of powerful card magic and impressive gambling demonstrations. Each effect is explained in comprehensive detail and accompanied by gorgeous color photographs.
The influence of his mentor is evident in the offbeat nature of the plots and the clarity of the magic. Jason has developed his own uncanny knack for uncovering subtle ways to boost the impact of every effect. Done correctly, these effects look truly impossible.
You'll also find key finesse points for moves you may already know. And, simpler alternative methods are often given to replace particularly difficult sleights in certain situations.
Confident Deceptions has been out of print for many years. However, after the massive success of Jason's follow-up release Game Changer, magicians around the world have been clamoring to get their hands on the book that put Jason on the map. Now, it's finally available again and has been printed on brand-new premium stock to ensure it withstands years of careful study and makes for a perfect pair next to Game Changer on your bookshelf.
As the best way to understand a performer is to see them perform for a live audience, Confident Deception also comes with a 20-minute performance download that features Jason showcasing highlights from the book.
"A master of artifice, ruse, and subterfuge at the card table. Within these pages is offered up some of the finest constructions I've seen, masterfully routined for maximum impact and pure entertainment in the tradition of Darwin Ortiz and beyond."Jack Carpenter
"A cardician whose passion for the subject is second only to the uninhibited skill he has worked hard to achieve. He brings a refreshing perspective to the subject. His material and virtuosity sparkle with raw power and energy."Michael Vincent
"A superb technician, the very definition of a professional performer… this material will absolutely delight connoisseurs of strong magic."Andrew Wimhurst
Hardcover (w. Dustjacket) | 240 Pages | 150 full-color photographs