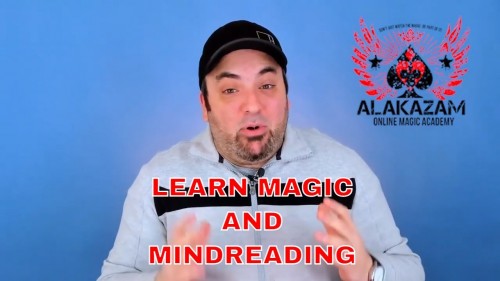 Download this course and learn new magic and mentalism today!
Nearly 3 hours of killer easy to do mental magic & mentalism
MENTAL MYSTERIES ACADEMY WITH DAVID JONATHAN
David Jonathan is back with a brand new Alakazam Academy, Mental Mysteries. The focus this time will be engaging mentalism routines and the course is packed with tons of material that has yet
to be published. Everything that will be taught can be done by beginners and pros alike. You won't find any knuckle-busting sleights here, just practical, commercial routines with methods that will make you smile.
Here is what you will learn:
• An ESP symbol is predicted with the most direct, stunning and surprising revelation… this
may become your new favourite opener!
• A fun and engaging personality test routine, with surprise twists and a great kicker ending. You will love the NEW principle utilised in this effect
• A very entertaining premise to predict a chosen colour… this will go right into your wallet!
• A baffling match up routine that combines a wonderful, super rare principle with a new discovery that delivers quite a punch!
• Predict which coins a spectator will choose from a handful of change with this new update to a classic principle… there's many potential applications for this exciting concept
• A serial number from a borrowed bill/banknote is predicted by the spectator… and they will have no clue how they did it! (this is an updated version that has never been taught before).
• A perfect ACAAN with a surprise you need to see to believe! This gem has been re-worked specifically for virtual performances, though real world handlings will be taught as well
If that wasn't enough, David will also conduct a workshop on Multiple Outs. It's a principle that is undeniably powerful, but too often is executed poorly. He will deconstruct routines to highlight their strengths and weaknesses, then share how to maximise this principle's full potential.
There's so much great material you won't want to miss, so be sure to join us for an evening full of Mental Mysteries with David Jonathan.