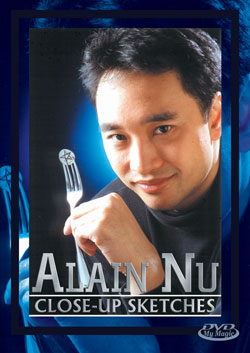 Alain Nu is a full-time creative performing magician who is equally adept at close-up, stage, mental and television magic. He has earned his chops by performing in restaurants, nightclubs, theaters, bars and even on the street. This DVD features the routines he uses in formal and informal close-up situations. You will learn audience-tested routines and some Nu-wave approaches.
Routines performed and explained:
►Be My Home Computer: A simple all-backs routine with a home computer presentation where a selected card visually appears as all the faces come back.

►That Old Coin Trick: An entertaining and visual coin routine where a coin produced from a spectator's ear vanishes, appears, flies to your pocket, splits into two coins and finally and magically turns into four.
►Eraser Head: A rubber ball held in your left-hand changes places with a coin in your right. The ball, which is made of putty, is stretched into a small magic wand shape and used to vanish the coin. The coin appears on the end of the wand. The wand (putty) is now used to erase parts of the coin via David Roth's "The Eraser." When the coin is erased into nothing it is found to have been absorbed into the putty.
►Switch Blades: An excellent multi-phase, color-changing knife routine where knives change color, transpose, multiply and finally the odd knife changes to a totally different color.
►Forked Up: An impromptu routine where a borrowed and signed coin is tossed into a cup full of coins. A fork is used to stir the coins in the cup. When the spectator removes the fork from the cup the selected signed coin is found laced on its tines.
You can't go wrong learning the routines on this DVD; they are all relatively simple in execution but powerful in effect.
A Meir Yedid Magic product. Original release date: DVD: August 2005, VHS: 1996. Running time: Approximately 60 minutes.