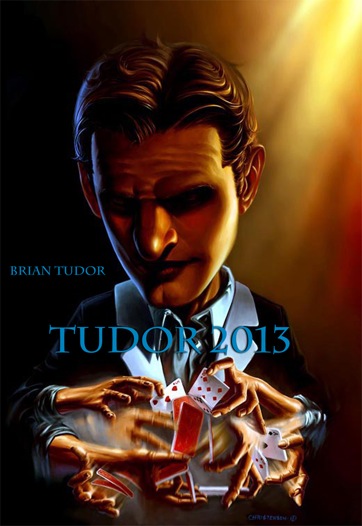 Brian Tudor is BACK! The world-renowned sleight of hand artist and trendsetter returns with new, original techniques featuring his signature speed.
Shuffling a deck of cards is common. Ordinary. But in this amazing DVD, Brian Tudor presents the world's fastest shuffle, The Tudor Shuffle Three! Now, what looks like a regular shuffle hides an extraordinary secret. A perfect Faro!
Brian teaches you step-by-step how to perform and perfect his shuffle; the most efficient mechanics known to date for a perfect 26/26 Faro shuffle. Along with The Tudor Shuffle Three, Brian "Shows Off" seven more special moves and six full routines:
• The Tudor Shuffle Three
• 4X R.F.P
• Pass Cut (Paul David)
• Four Slip Cut Production (Terry LaGerrould)
• Speed Cut (Showoff 1999 – Full Deck Retention)
• Jack Carpenter's Production
• Awesome Blossom Production (Showoff 2)
• Tudor's Customized Four of a Kind Production
• Vertical Table Display (Fast Action)
• Tudor's Different Direction Spins
• Tudor's Top Change
• Nano Break
• Drop Replacement
• Paul David's Back to Back Color Change
• Tudor's One Hand Side Steal
• Battle Trick
Brian Tudor's Twenty Thirteen (2013) DVD commemorates The Tudor Shuffle Three. Learn this amazing shuffle, add it to your show, and take your card magic to a whole new level. Showoff like never before!